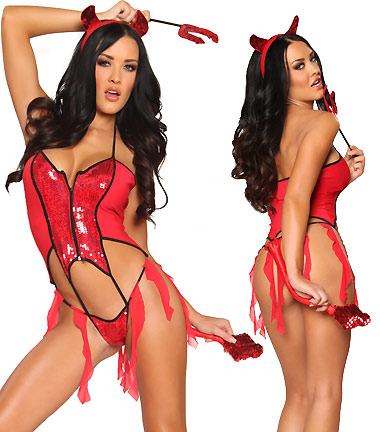 I do find that some bikini costumes, at least from a Succubi point of view, aren't that awful… Some of them. Not in this case I think…
This is called the Burning Desire Costume and it comes with a sequin Front Halter Top and attached Sequin G-string. A tail with Sequin Tip. Mesh gloves which are not shown here, a pair of  sequin horns and the awful pitchfork the model is holding…
It sells for what seems to be a very low $19.93 on the site I found it on.
I really don't like the pitchfork, the tail or the horns at all. There are much better ones that could be added to this costume and I would in a heartbeat.
I would also take a pair of scissors to the ruffles as they look just wrong in so many ways…
But, after doing all of that, it might not look all that bad with the right pair of red heels.. I'm fairly sure my Eternal wouldn't complain all that much if I did. Mind you, it wouldn't be something I would wear to a party… This would be for my Eternal alone…
As it is however, I'll give it two pitchforks out of five.
Not awful, a little work would improve it a bunch and there is some hope to make it better…
I haven't said that in a while…
Tera