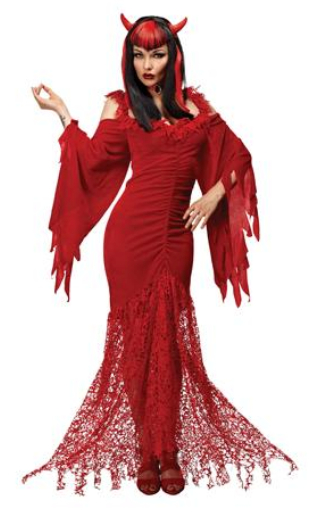 I don't mind costumes that are slightly over the top… I do mind when they go way over the top, look uncomfortable and just… are wrong.
Case in point…
This is called the Devil's Mistress Costume and it comes with the dress and horns shown here only. Nothing else is included such as the shoes, the wig and the choker.
It sells for $45 US on many sites though it can be found for less…
I find it hard to separate my dislike for this costume from the wig this model is wearing. It just makes the entire thing so far over the top that I find myself cringing to be honest. Not just that, but the dress looks very uncomfortable and heavy to wear. It also falls on the side of trashy-ugly which isn't a good thing either.
There isn't anything really that I can say in any way that is positive about this costume. The question is, i think, how to make it better in some way…
And that's going to be a difficult thing to accomplish really…
One pitchfork out of five.
It's not the worst, but it's very close to it…
Tera