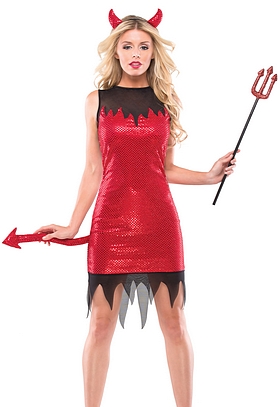 What is devine? To me. at least costume-wise, it is something that looks beautiful, has a certain something about it that makes it stand out from all of the other costumes, and as such, makes you stand out as well…
This costume would make you stand out, but not in the right way I think…
This is called the Devine Devil Costume and it comes with s sequin and mesh dress, s padded tail. a pair of horns and the awful plastic pitchfork appears again. Shoes are not included.
It sells for $50 US on many sites I have found it for sale on…
I don't like the flame hem on this dress all that much. To be honest, if that wasn't there I would give this a higher rating than I will be. The pitchfork is that lousy one that I have no attraction to whatsoever, the tail isn't all that awful really, but I can do better than that…
At least the tail and the horns match the dress, which is something that happens it seems very rarely…
I think as a backup to the costume I want to have this year, it wouldn't be the worst thing to wear, but it won't be my first choice…
Three and a half pitchforks out of five.
It would be four, but that hem just seems wrong…
Tera