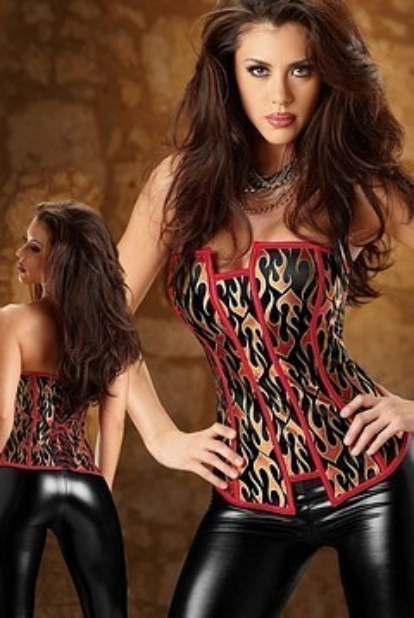 As most that know me are aware, there is very little costume-wise that I think isn't mostly trashy. As such, when I find something that I like, and like quite a lot, then my thoughts turn to how exactly that might be Succubish…
And I think this qualifies…
This is simply called a Flame Corset which is described as being a side zip with soft boning and a lace up back for that "perfect fit."
And it sells for a reasonable $40 US on the sites I have found it on…
It seems like whomever designed this corset actually took some time to come up with a flame pattern that looks good, which is rare. The red accents do not overpower the flame pattern either which is also nice to see.
But most of all, it isn't trashy, silly or worse. That makes this quite attractive to me. It really isn't bad and I have to admit that the shiny skin-tight pants the model is wearing does give me a lot of interesting ideas for a Succubi costume…
It does need one other thing however, a pair of horns and next week I'm going to share something I found that I think would be just the perfect accessory to this corset…
But that's next week…
I'll give this four out of five pitchforks.
Not trashy, actually does look sexy, and it is giving me ideas…
So that has to count for something doesn't it?
Tera