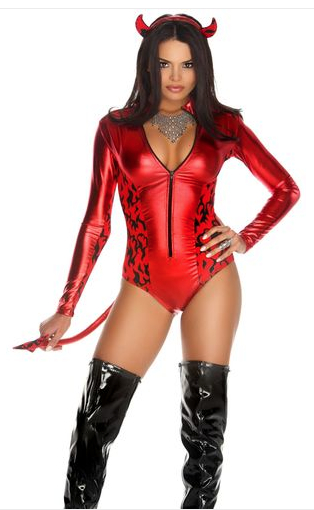 I have said many times that I happen to like costumes that have some latex or at least some shininess in them… most of the time.
Then costumes like this one appear and I find that even with a lot of shine to be seen… it's not that wonderful really…
This is called the Lucky Devil Costume and it comes with the bodysuit and tail and the horns…
The boots are not included, though I really do think you would need a pair like this model is wearing and it sells for $56 at the sites I have found it on…
I think that the model makes this costume look much better than it actually is. Of course showing a lot of cleavage will make any costume look better won't it?
I also don't care for the front zipper, it just looks wrong having a huge black zip in the front of what otherwise is an interesting flame pattern I think.
The tail isn't anything special and the horns aren't either which makes this costume less again than it could have been…
I'll give this two pitchforks out of five even with the boots…
Not really something I care for obviously and there are much better costumes to be found. Still, as a last ditch costume it is an option… mebby…
Tera