It is nice to see Lilith Aensland having some love as her sister gets so much of it… and this tribute video of her I think is one of the better that I have seen…
And a link if you cannot see the video here:
https://www.youtube.com/watch?v=PhvM0tO4mpE
I found one image in the video that really strikes me as being unique in how Lilith has been draw… She looks so mature in this work and that I think is very attractive…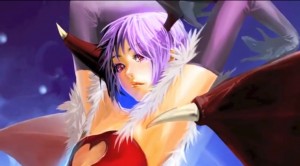 I really like Lilith when she looks to be about the same age that her sister Morrigan is honestly. She is supposed to be as powerful as Morrigan, but not as confident as Morrigan. So to me, a confident strong Lilith is very attractive as a character image to me…
If anyone knows where to find this image, please leave a comment?
Tera