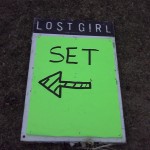 A little tale today… Those that follow my Twitter feed know what this is about, but as I have the pictures, and a Blog, I'm going to share them here as well…
I had sort of a Lost Girl encounter on Friday. Let me tell you about it.
I was off in the West end of Toronto, I had a meeting to attend and… Well… I got a little bit lost. I'm not a navigator, my Eternal will tell you that, and sometimes I get my north and south or east and west mixed up when I go somewhere new.
I pulled over to the side of the road to look at my map. Yes I use a paper map and not GPS or anything like that. Anyway, I noticed a sign laying on the ground next to the car and looked at it…
And saw this bright green sign with… Lost Girl set on it?
Now I couldn't investigate further, I needed to get to that appointment, but I drove back afterwards and found the sign was standing up. So, obviously the thing to do was to follow the signs and see where they went. I didn't expect to see the cast or anything like that, but I was curious.
The gallery here shows what I found along the way. I did locate the Lost Girl set, the crew and some of the trucks and so on that where parked there, but couldn't get onto the set or poke around too much around the outside of the place.
This slideshow requires JavaScript.
Really didn't see too much, but I have to say it was a wonderful surprise on a cold, windy and rainy day. It made me smile, and that was something I'll always remember…
My plan for today?
I think I'm going to go back there and see what I can see…
EDIT/EXTRA STUFF
I went back the following morning and all of the trucks and so on had left. I've added a second gallery here of what the place looked like. There were still some crew cleaning up, you can see their pickups and vans there. I went around the back of the site to have a look there and when I came back there was a Corvette parked hear the doors to the building that they used for the set. Looking through the windows there wasn't anything to be seen however. Still, it was fun to have the chance to peek around, have a look behind the curtain, and do something fun on a windy weekend…
Here's the next day pictures…
This slideshow requires JavaScript.
Hoping to find another one of their locations soon!
Tera