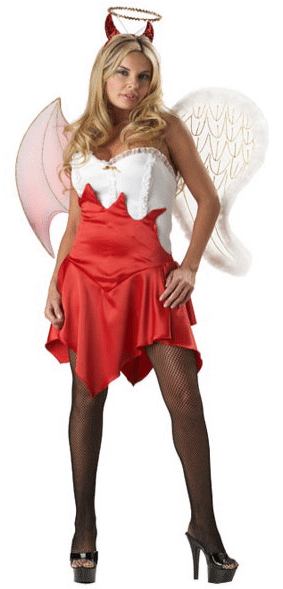 I found a costume that seems like it cannot make up its mind. Is it an angel? Is it a devil? I can say that it looks confused and ugly and just might be the worst costume ever that I have reviewed on the Tale and that's saying something…
This is called the Naughty and Nice Costume and it comes with the very odd looking dress, a halo, a pair of horns wings and pantyhose. There is no tail, the shoes are not included and it sells for $111 US.
This costume seems to be confused, not to mention ugly, silly looking, trashy, and should never have been created in the first place. Combining two ideas in one costume has never been a good idea in the first place and this I think is the worst, or best, example of that idea being a failure that I have ever seen.
What possessed someone to think that taking a devil costume and an angel costume, tearing them in half and stitching them together was a good idea? Calling this trashy and ugly is doing it a favour I think, but I cannot think of better words to use that wouldn't be so far into cursing and swearing that I would be embarrassed to use them honestly…
Another zero pitchforks out of five for my ongoing collection of terrible costumes. But this one, truly, is the worst one of all.
Until the next one appears that is…
Tera