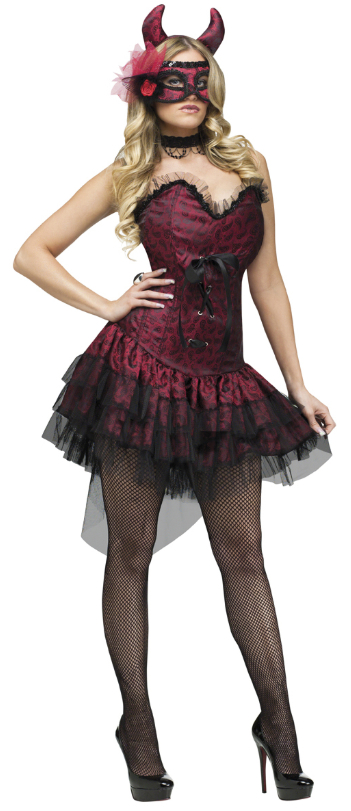 I think that just having a costume with horns isn't enough. I expect that there is something more that makes it if not special, then at least interesting. However, adding a mask to the costume does not help much by itself either. Mind you, having really silly horns doesn't help either too…
This is called the Masked Ball Devil Costume and it comes with the black and red bustier top dress with a fitted bodice, the mask and the rather oddly sized horns as well.
It does not include the choker, stockings or footwear the model is wearing, it does not have a tail, and it sells for $80 US…
Honestly there isn't much I like about this costume. The horns just look wrong and the costume itself really has nothing to it that even hints at it being devilish or Succubish whatsoever.
When I look at this costume i think burlesque more than anything else because of the look this costume has. I wonder if it is another example of a costume that hasn't been selling and has been repurposed in order to clear out stock. I can see that because the horns just do not look right here at all.
Still, it does make me ponder the idea of a Wild West era Succubus in a saloon somewhere having her fun.
So while I won't ever buy this, it might have given me an idea for a story sometime…
One pitchfork out of five.
I just can't find a way to like it honestly…
Tera