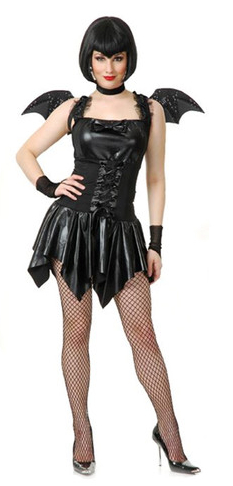 I wonder about some costume designers. It seems like they tend to mash up themes or ideas and make them worse than they could have been. What is worse is when they create a costume and I find myself wondering what exactly it is supposed to be…
This is called the Dark Angel Devil Costume and it comes with  the corset dress, choker and the bat wings. There are no horns or tail, the stockings, bracelets and shoes are not included and it sells for $35 US on many sites on the web.
I'm torn about this costume mainly because I think if there were no wings and it came with red horns and a tail it really would look better at least from my perspective of looking for Succubi costumes… Mind you, black horns and tail wouldn't be all that awful a choice either really.
But here's my problem. How is this costume really angel like, dark or otherwise, or devilish, or really anything in particular? It seems almost bland without some accessories to spice it up or help to say what you are… and really it shouldn't be…
Still, the accessories do allow for some ideas to ponder which really is a saving grace.
Two and a half pitchforks out of five…
I have ideas… That's a good thing isn't it?
Tera