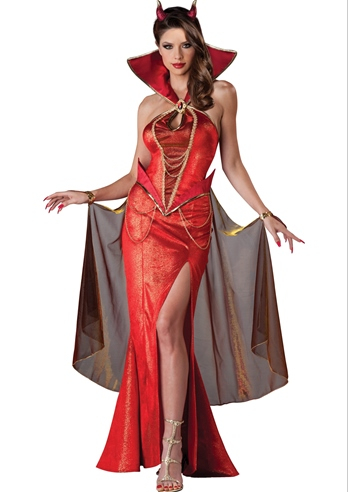 Sometimes, just sometimes, there is the occasional costume that has the slightest bit of class to it and it surprises me that it does. But then it seems that there just has to be a little bit of cheesiness that wrecks it. Or the price does. Or both.
This is called the Devilish Delight Costume and it comes with a full length long glitter gown with attached cape, jeweled brooch and the pair of glitter horns. The shoes are not, of course included, there is no tail, and it sells for $130 US at most sites where I found it…
Overall there is a lot about this costume that I rather like. It's not silly looking for the most part, though I don't care for the cape and the high collar isn't something that thrills me either.
I like that the horns seem to match the costume and that the costume itself has a certain bit of class to it in that it isn't so far over the top to be silly or ridiculous.
I would try to alter it a bit, just to get rid of that collar and the cape wouldn't be something I would wear as it's just that side of vampire silly to me anyway…
Two and a half out of five pitchforks…
Not terrible, but not wonderful honestly…
Tera