It's nice to see images of Morrigan Aensland that are fun and a little bit cartoony… I found a YouTube of an artist creating such a work recently. Now, I like the art, but the hyperactive camera work is a bit concerning… Still, it really makes Morrigan look so very cute and fun… Besides glasses on Succubi make them look sexier…
And if you cannot see this video on the Tale:
http://www.youtube.com/watch?v=RyiaWUyvn2w
Lastly, a screenshot of the art, complete with sexy cute glasses for Morrigan…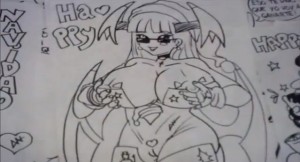 The artist of this art is called Hentai DrawBoom and they have quite a number of this kind of art creation videos on YouTube. While Morrigan is, slightly, over-endowed here, I really do like the touch of her wearing glasses and peering over them…
Because sexy cute is the best kind of cute isn't it?
Tera