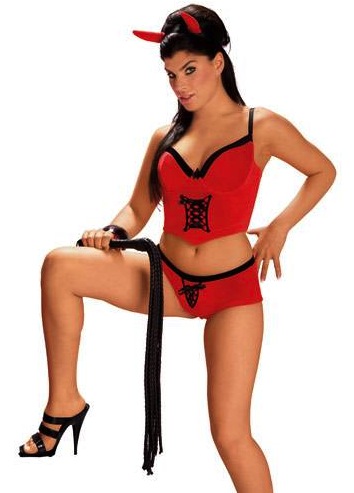 Another one of those costumes this week that the first thought that came to me was… why?
I think this is an example of all of the worst things that I have found in Succubus costumes… But we'll get to that soon enough.
This is called the Lingerie Sexy Devil Costume and it comes with the top which has that decoration on the front of it, the bottoms and the horns. The whip and shoes are not included and it sells for $50 US.
There is a lot not to like about the costume itself. The horns are lousy, they don't ever really look like horns. The costume itself looks like nothing special as well. In fact, take away the horns and all that's left might be a cheerleader costume or something similar.
As well, as an aside, the model really doesn't look at all thrilled about wearing it, which is not a good thing, the pose she has is awful as well. I don't understand why she's holding a whip either, but it's probably something to do with this being more lingerie than costume and so I suppose that it's playing to a fantasy or two somewhere…
But not to me.
Zero pitchforks out of five.
It will take some time to get this one out of my memory I think…
Tera