Videogame sprites, or avatars, you can pick whichever term you prefer, fascinate me. It cannot be easy to create them, or make them look like they have character or depth to them. I found a Youtube that shows the process of an artist named PainterBits2 making one of Morrigan Aensland, and it's really art more than anything else…
And if you cannot see the video on the Tale, it is here on YouTube:
http://www.youtube.com/watch?v=nXnsPW2GGIA
And here is a screenshot of the Morrigan Avatar in case the video vanishes…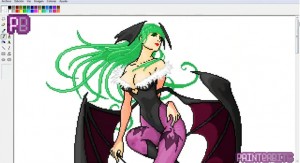 You can also find the completed art on the artist's DeviantArt site here.
I really like so much of this work… Her hair is lovely, her body shape isn't over the top, which I appreciate, and Morrigan just looks… right.
That's really the most important thing isn't it?
Tera