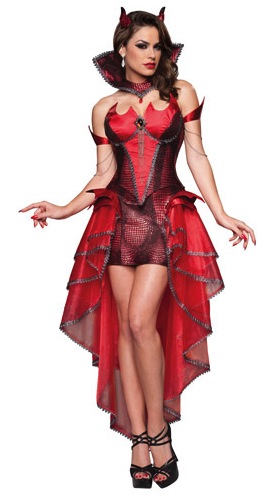 Some words really shouldn't be used in connection with a costume sometimes. Especially when the word paints an image of the costume in a certain way.
I've looked at some rather expensive costumes here on the Tale and the one this week is one of the most expensive that I have found. The odd thing is, in a way, I can accept why it costs as much as it does…
This is called the Devilicious costume and it sells for $159 US. That's really all that I can tell you about because the description of it tells you… nothing. Not a thing. Zero. Nada.
So I can guess that the costume comes with the horns, and the dress, and the choker and that would be about all I would think as the shoes really don't quite match the costume itself.
I kind of like the horns, they aren't awful which is saying a lot really. I can even live, barely, with the costume itself. The choker slash collar however is too vamp for my liking though. I also don't care for the bit of frills on the model's arms, especially the two little pieces of thread that appear below the frills. It makes this look very unfinished in nature I think…
It's not the worst thing I have found. In fact I do, in a odd kind of way, like this the more that I look at it. But there is no tail, of course, and it just looks… unfinished.
Two and a half pitchforks out of five.
In a pinch mebby, but that's about all…
Tera