One of the things that I enjoy is watching an artist create their art. I found a YouTube of an artist named Aria Blarg creating a painting of Morrigan Aensland that I think is wonderful…
And if you cannot see it here on the Tale, click this link:
http://www.youtube.com/watch?v=BlO4jcpsM_w
As always, here is a screenshot from the video showing this artist at her aisle, working at her art…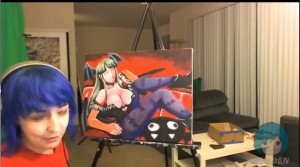 You can also visit Aria's site at: http://www.ariablarg.tv where she also has a page for commissions of her art…
It's a wonderful rendering of Morrigan, I love her pose, smile, and just how everything so nicely comes together here. She has an amazing talent to breathe such life into Morrigan and that's something that always makes me smile…
Please do visit Aria's site and see more of her wonderful art!
Tera