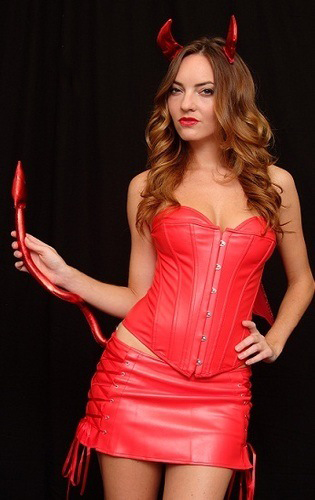 I do understand that not all costumes in the end are what they are envisioned to be. Nothing really ever can be, but, when something basic cannot quite be more than it appears to be, that's a disappointment.
This is called the Devil Darling Leather Corset Dress and it comes with the leather corset and skirt, a matching G-string, the tail and the pair of horns the model is wearing…
It sells for $53 US on the sites I have found it on…
I do like the corset somewhat, the lacing on the skirt bothers me however. The tail isn't that awful and the horns aren't bad either.
Here's the thing however. The accessories can be purchased separately. So in truth the costume is not all that it appears to be.
I mentioned I liked the corset, and if I think about this for a bit, the entire collection for around $50 means that you could, in theory, have an entire outfit for what a good leather corset would cost by itself.
Then my thoughts turn the question of what the quality of the corset and the skirt are really. If it really is as good as the ad copy on it is, then really it would be quite the deal. But somehow I have the concern that while it looks good, it isn't the kind of quality that I have with some of my better leather outfits…
I'll give this three out of five pitchforks.
That might be generous, but there is always the barest little hope isn't there?
Tera