Another YouTube tribute of Morrigan Aensland this week… I rather like the majority of the images that were chosen. I think I only really disliked two of them, mainly for there being some blood on Morrigan. I found one work of art that I really loved and I hope to be able to find a better example of it sometime…
If you can't see the video here on the Tale, click the link here:
http://www.youtube.com/watch?v=0QEOaGqwmiw
And here is a screenshot of the one piece of art that I think really gives life to Morrigan's personality more than any other in the video…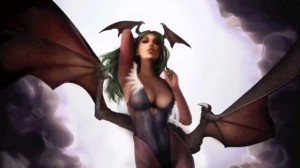 I have no idea who the artist is, but this to me is almost exactly how I envision Morrigan to look.  She looks more real in this art than I have seen in a lot of art and really that is something that I look for.
I do hope to find the original art someday…
Tera