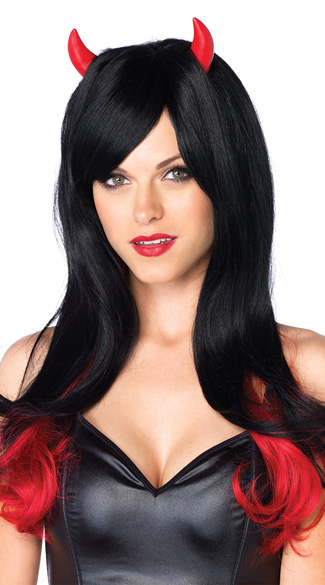 I find it hard to like a lot of the costume wigs that I find. They look wrong, or are too cheesy, or just don't have that certain something that I need them to have. I don't necessarily have to have perfection, but they do have to be sexy… I found one that I really do like and I think it will be finding its way into my costume collection…
This is called the Demona Wig and it is a long black wig with swooping bangs, a red underlay under the black which makes the end of the bangs turn red, and a pair of attached devil horns.
It sells for a quite reasonable $25 US on the sites that I have found it for sale on.
I really do like this wig very much. The horns aren't silly, the wig itself looks quite real which is nice as well. What makes it more interesting to me at least, is the hint of red that appears in how this wig is made.
Those that understand will know why that is…
I'll add one other thing I'd like to say which has nothing to do with the wig itself. I really would love to be able to see the dress that the model is wearing… I really like the look a lot and having that dress with that wig would be absolutely perfect.
I'll give this wig four out of five pitchforks…
And I'll be looking to find that dress too…
Tera