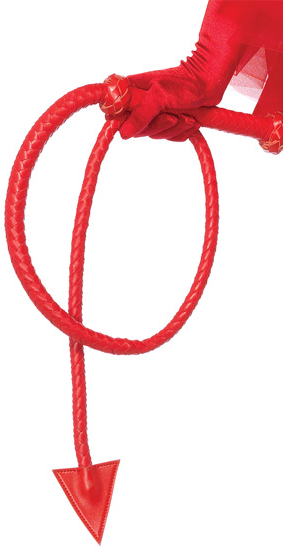 I do look for accessories for my Succubi costumes… I prefer things that are not tacky most of all, but sometimes there really isn't much of a choice and then I come across things that make me wonder… A lot.
Now, I do have one costume that does, I think at least, need a whip of some kind to make the entire thing look right. And yes, I would be a redhead and yes I would be my alter-ego Tail…
So, I found… this.
It is described as being a Devil Tail Whip and it is a red, faux leather, 54 inch long braided devil tail with a spaded tip on the end of it…
It sells for a reasonable $15 US on the few sites I have found it on.
I do have a whip from my more…. Domme years, but that's for special occasions and it really isn't something I would take along to a public Halloween party…
A more private one would, I promise, see it and possibly the most dominant Mistress outfit that I have. But that's another story isn't it?
As a costume prop, with the right outfit, I don't think this would be all that bad really. It does not look awful, it has some style, and it might be the right accessory for the right costume…
I'll have to ponder it a bit more though…
Three out of five pitchforks…
Still a bit silly and I don't want to make my Tail peeved…
Tera