And so another year of searching for Succubi costumes begins… What awful things will I find this year? Can it be worse than last year? Is that even possible?
Yes. Yes it is…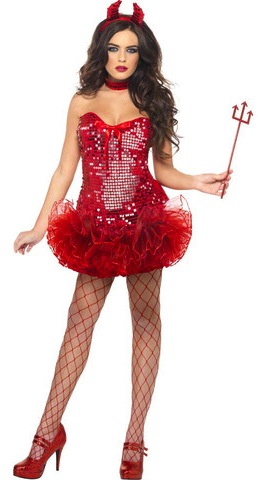 This is called the Women's Red Sequin Devil Costume w Tutu Skirt. Yes I copied that exactly from the page I found it on in case you are wondering. It comes with a red tutu style sequin strapless dress, the red devil horns and the sequin choker. The pitchfork, stockings, and the shoes are not included. And of course there is no tail either.
I found it on sale for $40 US on a few different sites…
Not really all that much devilish or succubish about this costume really. Taking away the horns, you are left with a red ballerina dress that it just that side of trashy…
I don't really care for trashy all that much. And, obviously, I don't care for this costume very much either.
The pitchfork is lousy, the stockings are as well. The shoes are so-so… The horns are not that thrilling either, sequin horns never are for me really. The chocker seems to heavy for my taste as well. Then we come to the dress. I really dislike having poofy skirts. It bothers me because there is no way you can really get close to someone without the fluffiness getting in the way all of the time…
And I like being close to my Eternal.
I think this is one of those costumes that you pick because there really isn't any other choice left to pick from… and to be honest I can't see myself wearing this…
One pitchfork out of five.
It gets that because, sometimes, desperation make you do things you don't want to, but have to.
Tera