Another Morrigan Sisters dancing video this week on the Tale. Lovely rendering of both sisters here, but I have to say that Morrigan with pink hair? I have to ponder that some…
And if you can't watch it on the Tale:
http://www.youtube.com/watch?v=lfGeoDd1u0Q
And here's a screenshot from the video showing the sisters together in mid-move.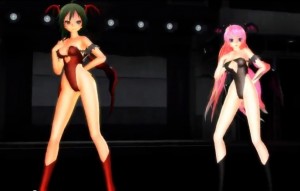 I like this dance routine better than the one last week mainly because it is less of a stripper dance and more of a real dance routine. Again the spites are really well done of the sisters and that really makes this again something I do like.
I have to wonder about Morrigan with pink hair though… I like her green hair, the blond hair is so-so but the pink I think is going over the edge a little bit too far honestly…
One more to share next week, and this one is Morrigan alone…
Tera