Of course one of the seven deadly sins is called Lust. And, at least for me, I associate horns and a tail with that.. of course I mean Succubi, but that's beside the point. My question is, where are the horns and tail in this costume? I think they really are needed…
Mind you, I always think that don't I?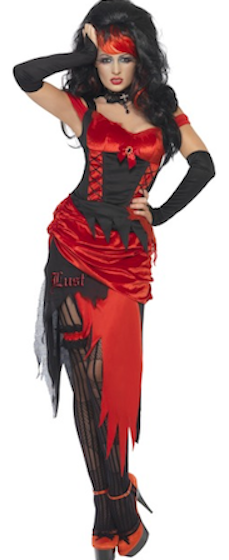 This is called the Seven Deadly Sins Lust Costume and it comes with the dress, garters and armlets… and that's all. The stockings and shoes are not included and it does not come with a pair of horns, or for that matter a tail either.
It sells for $60 US.
I do like this, as odd as it seems. There is some class to it, but to have the entire look you need to buy some extras… Like the stockings, the shoes, and the wig the model is wearing as well as the wrap and the necklace she is wearing too.
But the thing of it is… I do like this, a lot really.
Now I would have to add at least horns to this look, my hair is more than long enough to not need a wig, so that look is still there.
I get kind of a gypsy vibe from the entire look which makes me think about a fortune telling succubus… There's a story in that I need to think about… a lot.
Setting that aside, this could be something really sexy to wear and it would be alright in public as well… Mind you, I still don't like ripped and uneven hems, which this has. And it really seems like the material is bunching up a lot on this model and I can't tell if that is on purpose or it was just the wrong size for her.
I'll give it two and a half pitchforks out of five.
It's an interesting start, not perfect, but I think I can do something with it given some time, needle and thread…
Tera