Once again, I found a costume that I do not think much of that has a name that makes no sense for what it looks like. It is starting to become a theme in the costumes I have found and that's a real problem. Perhaps more time need be spent on designing the costume than deciding on a name?
Just saying.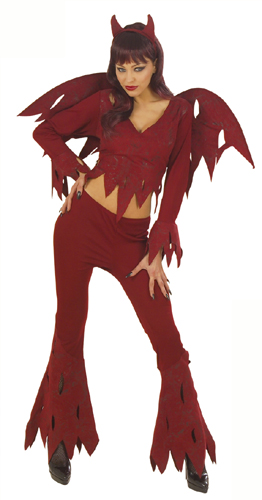 This is called the Rowdy Devil Halloween Costume, and it comes with the shredded wings, the top, and the slacks. It also includes the horns, which is a surprise really.Shoes are not included.
The costume sells for $75.
It bothers me that the idea of sexy means that what you are wearing has to have tears in it. I don't quite follow that train of logic for a lot of reasons. The main one in this case being that if the costume wasn't torn up, I think that it wouldn't be all that awful a thing to wear at the door for Halloween.
I am, yes, being generous with that statement I know.
I like that the horns seem to match the outfit, so it has that going for it. Otherwise… It's kind of hard to say that I honestly like anything else here.
Still, take away the wings, clean up the lousy hem on the top, which would show more better, and it could be a nicer costume with not a lot of effort…
The question is, would the effort be worth it in the end? On that question I can't say for sure, but I find myself doubting that a lot…
Two and a half pitchforks out of five.
There is better, there is worse, but this isn't a total waste.
Tera