I found another wig to ponder over this week on the Tale… The thing of it is… I would I think rather know more about the costume than the wig, but then I am always looking for costumes aren't I?
Maybe I'll find this one too…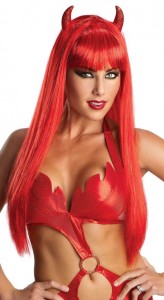 This is called the Sexy Glam Devil Woman Wig, it comes in red only, and it sells for 15 US. I have to be honest and say that I do, more than I expected at first, like the wig… I actually will be ordering it as my current red one is lovely, but I want one that is a lot longer than the shoulder length one I have.
But, here's the thing.
I like the wig, but I really want to see the costume the model is wearing in this image because… well I think that could be something amazing. I could be wrong, I know I could, but you just can't tell for certain and so…
It is probably not something to wear out and about, but I don't think my Eternal would mind seeing me in it at home… in bed…
Umm… Lost in thought there for a moment… sorry.
That wig and costume and the right pair of red heels could be very delicious by far I think and I will be looking to find it.
It's always good to have a goal isn't it?
Four pitchforks out of five for the wig and costume combined…
And now I have a lot of searching to do don't I?
Tera