I've never played Soul Caliber. There is a Succubus in this game however, and someone created a YouTube of a model they created of the original artwork of her… it's quite well done I think.
And the link to YouTube if you can't see it here:
http://www.youtube.com/watch?v=lj7AMtHoYk8
And here is a screenshot of the succubus model herself.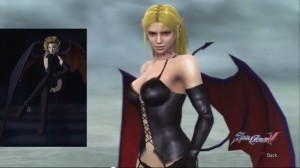 I think this is very well done, she's a very good representation of the artwork she is based on, which you can make out in the small inset beside her. I'm rather happy she has a tail, and her outfit looks good too. The wings as always I don't care for either way, but there they are I suppose…
It does interest me that in this game there is a character editor it seems that allows the creation of succubi that look… different.
I'll have to look into that some more I think…
Tera