It amazes me, as it always seems to do, the descriptions that are made about costumes. They seem to be sillier and sillier the more I look for costumes now that I think about it. Add to that a price that makes me twitch and… well…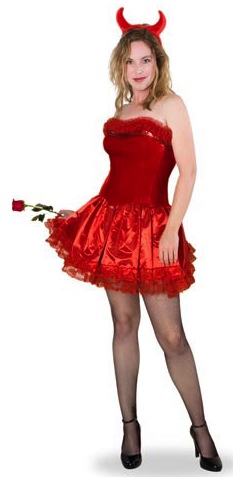 This is called the Lava Diva Devil Corset Costume, and it comes with the corset, the skirt and the pair of horns. Nothing else is included and what really makes me pause is that it sells for… $110 US, sometimes on sale for $95 US.
To be honest, I can't see how to justify that price for this costume. It's not that wonderful looking, it doesn't come with a lot of accessories as well. The horns are some of the worst that I have seen.
There's also no tail.
No pitchfork either for that matter.
Overall it just looks like a red dress that the manufacturer tossed a pair of leftover horns onto and called it a Devil costume.
There isn't a lot of imagination to speak of in doing so and that makes this even more disappointing.
I suppose as something to wear when handing out treats it's good enough. But it's not good enough for me at least.
I'll give it a half pitchfork out of five.
Not the worst thing ever, but it's close…
Tera