This, the night before Halloween I found a Devil Girl costume that isn't quite perfect, mind you only one is and that one was specially designed and created for me. In that same idea, I found a costume that was custom made with some optional extras… The thing of that is… I like the costume quite a lot, I think I can do without the light show however…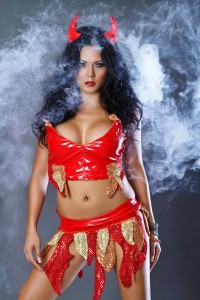 This is called the Illuminating Devil Costume, and it comes with the top, skirt and a pair of horns. It also has an accessory of some orange glow in the dark lighting that can be fitted into the costume in some hidden pockets.
Shoes are not included of course nor a tail or pitchfork. It can be found for $$85 US on one particular site only as it is a custom creation.
I have to say that the model that is shown here, the effects around her, her pose, and expression really sell this costume and it does tempt me… a lot.
I like the horns, I can live with the top, but the skirt… I don't like it much and since this is a custom piece I would be asking if some alterations might be made to make the entire look a shade less cheerleaderish and more… well Succubish.
I understand the lighting gimmick in a way, but the description says that the costume glows and flashes which, honestly, pushes the realm of tackiness more than I like. So, at least for me, that part of the costume would never be used…
Tacky isn't Succubus material.
Overall, I'll give this costume three and a half pitchforks out of five.
I think it can be better, sexier, and more than it is just from what other creations this designer has made which are, to be honest, stunning in their beauty and look…
Tera