There are some costumes that never, really never, should see the light of day. Or for that matter the dark of night… The cheesiness of some is overwhelming and the thing of it is… They do appear and that's just wrong…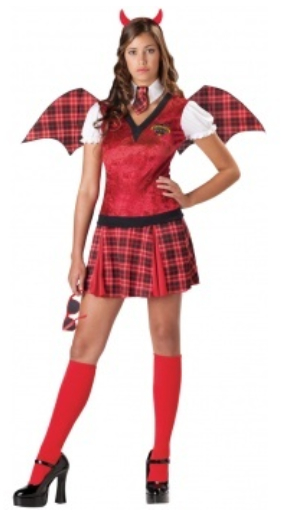 This is called the Detention Devil Costume, and it comes with the dress, the plaid wings, the collar with tie and the devil horn headpiece. It does not include the knee socks, the shoes or the sunglasses…
It sells for $50, the shoes, socks and glasses add about $50 to the total, so, to look like the model would cost basically $100 US…
And I just don't think, or understand how that's possible. Not to mention that all of that plaid just is so far over the top that it hurts my eyes to look at it.
The other thing that bothers me is, how does it work that she has plaid wings? I am glad the costume doesn't have plaid horns or tail. That would guarantee a zero rating.
Mind you, it really doesn't deserve anything more than a single pitchfork for the tackiness of it as well.
But, and this is a very, very small but, I do like the stockings and the shoes. But the rest of this I just don't care for.
Which means that, in truth, that the only thing I like are the accessories you have to buy separately…
Perhaps I really should try to do my own version of this for Halloween…
Something to ponder… It's still not too late…
Tera