There are, interestingly enough, a lot of dance videos on YouTube that use the same music, the same moves, but overlay different characters. I shared a Morrigan Aensland one a while ago as I recall it…
And this is another, if very skimpy, one of a Succubus…
And if you can't see it on the Tale:
http://www.youtube.com/watch?v=-H2II-uh3Z0
And, in case they remove it, a still from the video of the Succubus herself…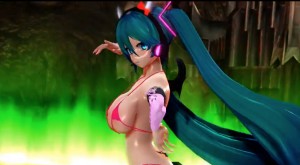 I realize that this doesn't show very much, but, she isn't wearing all that much either. I like her hair, she has a tail, and if she was wearing a little bit more. I think I could like her a lot more too…
The music is hyperactive of course, it seems like most anime music is, but then that's just how things are…
It makes me ponder a Succubus who is a pop music star… a lot.
Tera