I have written about horns for costumes before… Personally I like small, cute, sexy ones. Now I know full well that others like other styles of horns and I accept that. The question I have is, if you have huge inflatable horns on your head, does that make you extra horny?
I have to ponder that question I think a bit…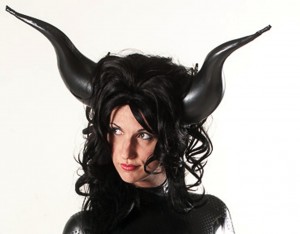 These are described as being simply a pair of inflatable horns attached to a hair band made of latex. Oh, and they sell for $125 US.
For the pair of course.
They will produce them in various colours, with of course red being one of them, but they have just about every colour you can think of available.
The thing about this particular product is, and I don't know for sure, they offer the horns in various sizes, from small to extra large, but they aren't clear on what that means.
Is what they show in this image the small? The medium? the extra large? Just what are the dimensions exactly anyway?
I will admit that I am somewhat tempted to purchase a pair of them, and I hope that the company that sells this item will reply to my questions I emailed to clarify a few points. I think it would be interesting if they are be purchased at a much smaller size…
In red of course to do with one of my latex dresses, but that's another story isn't it?
I would have to do so as the company selling this item doesn't sell any latex dresses or costumes that you could combine with it. As an accessory, it is rather interesting if expensive, but it is a custom order and thus the cost is as high has it is…
I'll give this three out of five pitchforks…
It's tempting, a lot more than I expected, but the cost is a bit high considering I have found wonderful costumes for about the same cost…
Tera