I have been looking for something in leather. Well, something that would look nice and be sexy and would, at least I would think, be something Succubi-like… While this isn't perfect, it does give me pause because it reminds me of Betty Page and she is someone that I think was wonderful…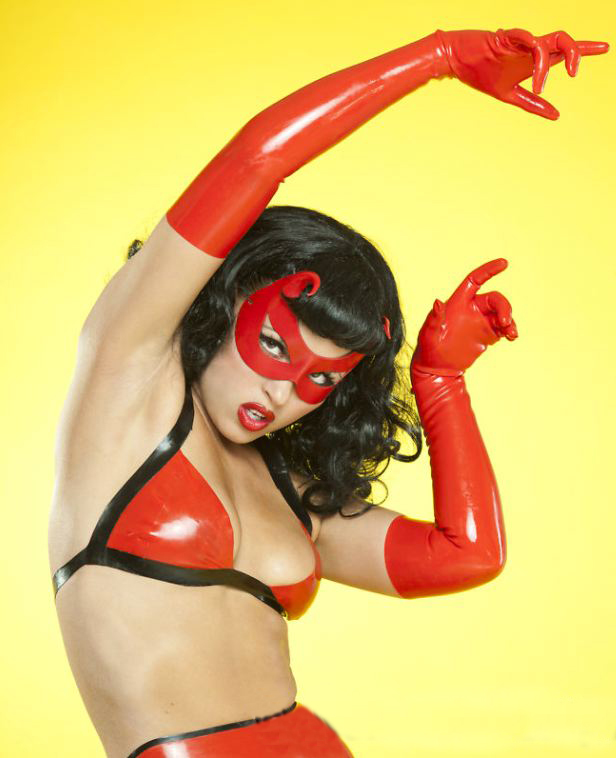 Now before I talk about this… I do need to admit that what you see here isn't what you get… and what you get is only the mash that the model is wearing.
The mask is made of leather and it sells for $50, and for the quality of it, and what it is made of, I can understand why that is.
The balance of the outfit the model is wearing, the gloves, the bikini and so on, as not included…
But you can, fortunately, buy them too…
But the latex gloves, which I really like, and the latex bikini, which I mostly like, would cost about $120 on top of the mask…
So the question becomes, is the entire look worth it?
Well, for my Eternal I think it would be, and I am fairly sure that he wouldn't be disappointed in my appearing in it…
And I have to admit that the idea of roleplaying as Betty Page has a… rather strong attraction as well..
I'll give the mask alone four out of five pitchforks, and the entire costume the same score…
Will I buy it?
Only my Eternal will ever know…
Tera