I do find the occasional costume that I like as hard as that is to believe. What's more, there are even some that I really want to like because they have something about them that just makes me ponder them a lot… This week's costume does that, but….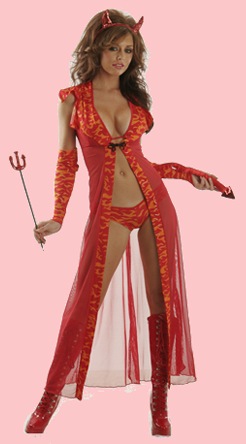 This has the rather generic name of the Sexy Devil Costume, and it comes with a sheer red robe, tri-top, red shorts, armlets, pitchfork and an attached tail.
The boots are not included and the costume can be found for around $100 US.
But the boots, if you want them, and honestly I think that you really do need them for this costume, are another $100…
So, for the entire look, it would be about $200…
I have to admit that I am really tempted to buy this for me… and my Eternal of course… But the thing of it is that I can without much of a problem, create the same look, and probably a lot better, with what I have around the Realm here and there…
And, come to think about it, I have many times before to be honest.
The pitchfork is yet again one of the lousy ones that I hate with a passion… The horns are a little too plushie for my tastes, but they aren't totally hopeless either. I really do wish that they made this as an entire costume as I want to like it a lot more than I can without the boots… And I want those boots…
Overall, I'll give this three out of five pitchforks as a complete look…
Without the boots… Prolly two.
Will I buy this?
Only my Eternal will ever know for sure…
Tera