I found another Morrigan Aensland YouTube… One things that bothers me about it is the same thing that bothers me a lot about many other YouTubes of Morrigan… And that is, why so many images of her bum?
I mean, honestly, I would have thought that there were other parts of her that were more attractive?
As always, if you can't see the video here, just click on this link:
http://www.youtube.com/watch?v=j3tmMA9vZ1I
And this is the one image of Morrigan that I thought was the best one that they used in the video: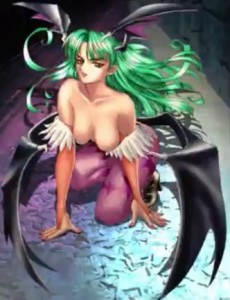 There were, honestly, a lot of images of her that I felt really aren't all that flattering, or for that matter really sexy… Especially the first image. I don't understand why that would be shown first when there are so many other images of her that are so much better.
I'm also not thrilled by the music… There has to be something classical that would fit Morrigan better I would think…
Tera