I like shiny Succubi costumes. I freely admit that and, as well, I tend to give a better rating to them. I just think that overall they tend to look better if they are done in the right way… Mostly…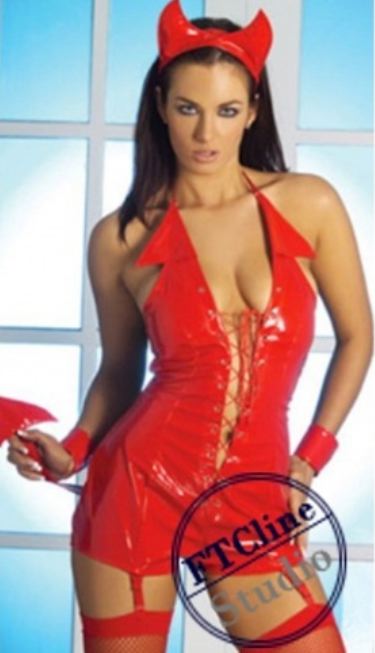 This is called, simply, the PVC Devil Woman costume and it comes with the PVC costume with an attached tail and the PVC horns and the wristlets.
The stockings and garters do not come with the costume.
It sells for $45 US, but it can be found for less easily enough.
The one thing that really bothers me about this costume is that, on some sites, this is described as being a "cat devil" costume because, and I can see this, the horns are so wide that they can be mistaken for cat's ears.
I really don't like this much. There isn't really a lot of sexy here and seductiveness is even less so.
I also can't see a way to make this better considering that the entire costume looks… cheap. It's not sexy in the way I like sexy nor is it honestly well made from what I can see.
I won't give it a zero, though I have to admit that I was very tempted to do so…
One half pitchfork out of five.
I'm still looking…
Tera