It strikes me that some costume designers believe that adding a pair of horns to any costume makes it more Succubus like, or at the minimum, more Devil Girl like. Now I do not subscribe to that belief, I never have. This week's costume is a prime example of why their concept does not make it in my eyes…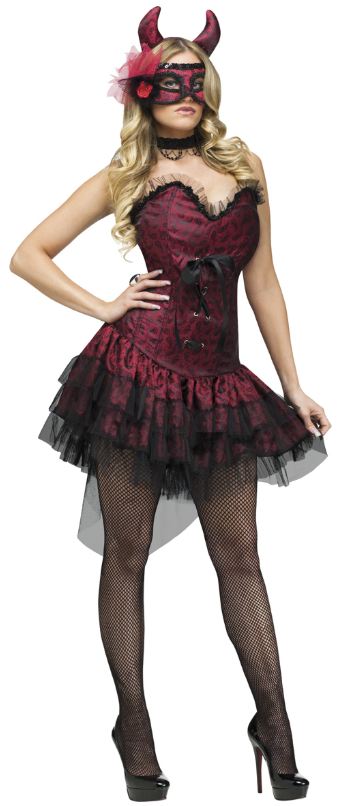 This is called theMasked Ball Devil Costume and it comes with a black and red bustier top dress with a bodice, a devil eye mask and a devil horn headband.
The shoes and stockings are not included, there is no tail, and the costume sells for $50 US at various sites on the web.
I'll be honest and say that if this was a costume alone without the horns, I would not think it to be that awful. It has some style to it, and it could be an interesting steampunk costume… but it isn't a succubus and it is barely a Devil Girl as well.
The horns are lousy and they are the only thing here that even barely suggests what you are attempting to be. As such they should stand out a bit more, and there should be a tail as well, but neither of these things happens and so… this is really nothing special.
I don't think there is any real way to improve this either, none of my good pairs of horns could add to this with all of the visual clutter that this costume comes with.
But, as I have said, I kind of like this in a non-succubus, non-Devil Girl way. I actually know someone that is going to be going to the Halloween party this year as a Steampunk chorus-line dancer and I will be sending her this to think about…
However…
I'll give this one pitchfork out of five.
For a Succubus or a Devil Girl, you can pass…
Tera