I can understand how the colour red is seen as being sexy… That is, after all, kind of a given really. But just because a costume is red, that does not make it sexy, or devilish, or Succubish.
Case in point…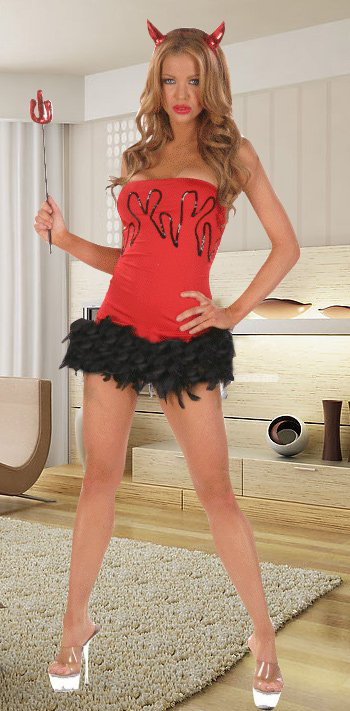 This is called the Sexy Red Devil Costume, and it comes with the strapless dress, a pair of red horns and the pitchfork the model is holding.
The shoes are not included on course and this costume sells at several websites, for as little as $11 US.
Honestly it does nothing at all for me personally. Part of that I think is the model, she has a look that really doesn't "sell" this costume.
The pitchfork is not even close to being one, the horns are ugly, I don't care for the tutu look of the dress nor the almost, sort of, but not quite flame pattern as well. Interestingly enough, the dress has appeared in several other costumes with longer and shorter hemlines… and in every one of them that same odd pattern of kind of sort of flames appears on it.
So really, what this costume amounts to is a recycling of a recycling of a recycling of a costume that in the first place wasn't anything special.
As such, this is not something that I would consider, not even in an emergency which is saying a lot.
I also have to wonder about the thought process that went into having this model wear clear plastic stripper heels with this costume. I also have the oddest feeling looking at the image here that this is a cut and paste job. Things seem out of proportion to me in this image between the model and the background… and I wonder why it was necessary to use this sort of image to sell this costume in the first place.
Ugly.
I'll give it a quarter pitchfork out of five.
If I see yet another version of this costume appear, it will get a zero.
Tera