Sometimes a costume uses a word that doesn't quite match up with what I think the word reflects. At least I think so… Bedazzled means, at least to me, something that is attractive, sexy, and is not at all trashy.
If a costume can be all of that, then it's something that I would seriously consider… Even if that means choosing a costume that has to be custom made like this one is.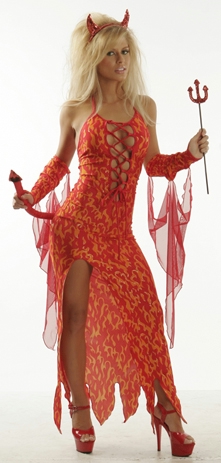 This is called the Bedazzled Costume, it is custom made, and it comes with the lace dress, pitchfork, horns, glovettes, and tail. The costume comes in several combinations of colours and detail which include red, black, and silver. Shoes are, of course, not included.
What I find interesting is that the entire outfit can be bought for between $79 and $89 US on the site I found it at.
While the tail isn't special, it is a pre-made one that has appeared on the Tale before, and the pitchfork is also nothing special as well, I do like the horns with the costume.
Which brings me to the costume itself…
I'm not too thrilled with the hem of the dress, but otherwise I think that is it rather nice overall otherwise. As a more "public" costume, I think that this would be mostly alright, those as I said, the hem and finish of the dress bothers me a bit…
I think that I would consider shortening the dress to the knee or so and get rid of that slit as well.
Overall, if I have to wear it as it is, I would give it three pitchforks out of five.
After fiddling with it, a lot, I might give it three and a half…
But no matter what, the stripper heels would have to be worn with this…
And that would give me all sorts of ideas…
Tera