I found another YouTube that has in it quite a few Succubus or Devil Girl Anime images. Now, some of them I don't really care for, but there are some that are rather good choices really.
And if you cannot see if here on the Tale:
http://www.youtube.com/watch?v=R63OG2RO_rw
A lot of the images in this video are ones that have appeared on the Tale, fewer of them as Succubi of the Week, but, I did find a new one that I hadn't see before…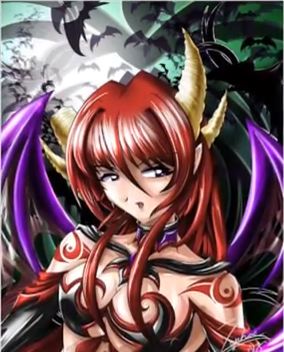 I have no idea who this is, if she is a Succubus or other Devil Girl or not as well. I don't know the artist, though there is  a signature that you can barely see in the lower right corner of this work.
The problem is, that I can't read it and so the artist is a mystery to me at least and I would like to know who that is. So, if a reader has any idea, please leave a comment?
Setting that question aside, I think she's wonderfully cute in her own way. I'm not sure about the double sets of horns, but they seem to work well on her at least. The tattoos and clothing is interesting as well and I like the purple wings contrasting with her skin and hair.
Lovely work, and I would love to know if this artist has done more, similar works somewhere…
Tera