So, what is the definition of "hot" anyway? To me, it means that a costume makes you look good, feel good about yourself, and has just the right amount of sexy in it.
This doesn't.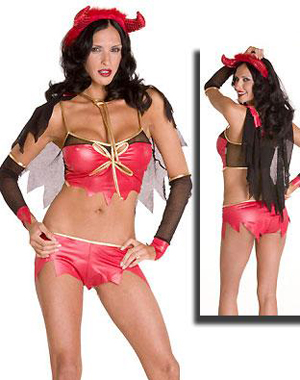 This is called, apparently, the Hot Demoness Costume, and it comes with a pair of horns, a cape, armlets, and the bikini top and bottom.
It sells for $45 US all over the internet and, honestly, I think that's vastly overpriced for this disaster.
This is just ugly in so many ways that I lose count of them all. But, in short, I hate the horns, they are just ugly and the fuzziness on them adds to the disaster they are.
The cape is also a mistake, there is no point or reason for it to be there as well. The armlets are, again, nothing to be thrilled about as well. The costume itself? Really? That's what a "hot demoness" wears? Seriously?
Off the top of my horns, I can't think of any reason why I would consider this as a costume… ever. The trashiness of this is off the charts, I would be embarrassed to be seen wearing it, not because it is skimpy, but rather that it's so ugly that my self-esteem in wearing it would be destroyed honestly.
Yet another zero out of five pitchforks.
Somehow, someday, there will be one costume manufacturer that gets the concept that sexy doesn't equal trashy. When they manage that, they'll have a sell out on their hands…
But that's probably just wishful thinking really…
Tera