I have never seen a Marionette performance that has a Succubus in it, or it is about a Succubus, or both. At least I never have until I found this really quite fascinating work on YouTube that is…
It is called The Succubus Ascends and is the creation of Sara Lee Hughes.
And if the video doesn't appear here on the Tale, you can find it here on YouTube:
http://www.youtube.com/watch?v=7eY-7PxULKk
And, one single frame from the video of the Succubus Marionette, because I find her really wonderfully created…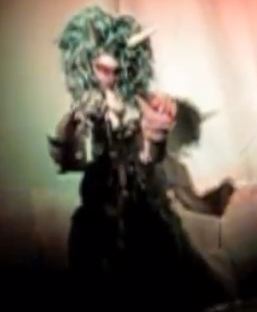 It's a shame the video is so blurred to be honest, I would have liked to be able to have a better look at the Marionette. At least I can tell her hair is green and her horns are kind of a white, or bone colour. It also looks as if she is wearing a rather formal dress, which I thought was an interesting contrast from what she is intended to be.
The music is really striking as well, and I think the imagery combined with the music makes this a telling story that really needs no words.
I do have to wonder though who she is meant to be. I don't believe she is meant to be Lilith nor any contemporary Succubi. I will admit that when I saw her hair the first thought I had was that she was inspired by Morrigan Aensland a little bit, but that isn't right either.
She is, her own being. Some tragedy, some hope, and, perhaps, some promise by the end of this tale…
I do hope so.
Tera