When I see the word Succubus, that means something rather specific to me. Sexuality, seduction, and class. When that's followed by the word Dominatrix, well, then that brings to mind a very specific look I think. One that when you see it, you have no misunderstanding about it at all.
But in this case, I don't think that the name matches the costume… again.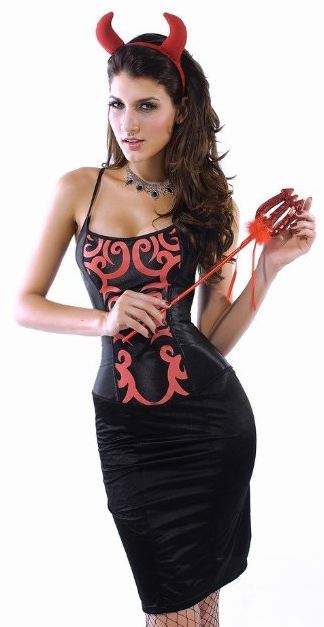 This is called the Succubus Dominatrix Costume, and it comes with the horns, the corset, the skirt and the pitchfork the model is holding in her hands.
The necklace and the fishnets are not included, nor does the costume come with a tail either.
It can be found on Amazon, among other sites on the web for, and this I cannot understand, $130 US.
I cannot understand how something that looks like this can possibly sell for that much money. I have reviewed other costumes in this price range in the past on the Tale and just about all of them are so much better than this by far.
The horns are nothing special, the pitchfork is one of those that I truly hate with a passion.
I like the necklace, but that means nothing since it doesn't come with the costume in the first place.
The corset looks cheap to be honest. The pattern on it doesn't say Succubus to me at least. I have to wonder if, once again, this was an attempt by a costume manufacturer to get rid of leftover items by repackaging them as a Succubus costume.
This might be, and it's a bit of a long stretch when I say this, something I would consider if it was the last thing sitting on the shelf. But then I could whip up something better than this with a pair of my own horns, one of my slinky black dresses and a far better pitchfork.
I won't give this a zero, though it deserves it for the ridiculous price tag.
One quarter pitchfork out of five.
That's too generous probably.
Tera