I like shiny costumes… I really like them a lot and when I find one that is sexy, shiny, and isn't silly or trashy? That's something that just makes me smile. And this week's costume, I think, has a lot of possibilities…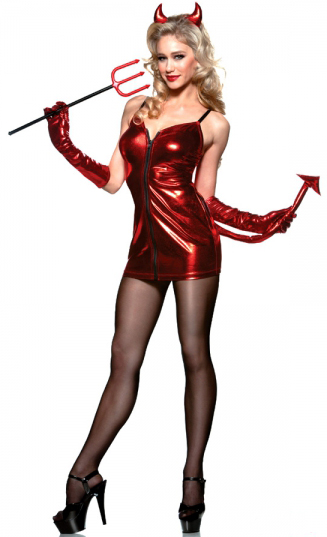 This costume is called the Sexy She Devil Costume and it comes with the metallic red, zippered front mini dress, a pair of matching devil horns, the gloves, a removable tail and the pitchfork. The shoes and stockings are not included.
It sells for $35 US.
Honestly I like a lot of this costume. I like the horns, they aren't silly looking, which is always a good thing really. I like the gloves, though I admit that I would want them to be a bit more skin tight than they appear to be on this model at least. The dress I like as well, not trashy and everything seems to work together well.
I don't care for the pitchfork, and the tail is, honestly, really borderline for me personally… I like the choice of stockings and as well the shoes are a perfect fit too…
Just sexy and that is the important thing after all isn't it?
I think that just changing the tail, and using one of my better pitchforks would make everything look so much better…
I'll give this four out of five pitchforks.
That might be a little generous, but, on the other hand, I am getting some ideas from this…
That has to count for something doesn't it?
Tera