Sometimes the combination of words that retailers use to sell something, to me at least, seems like they looked for words that would come up on a google search and then attached a costume to that.
A prime example is this.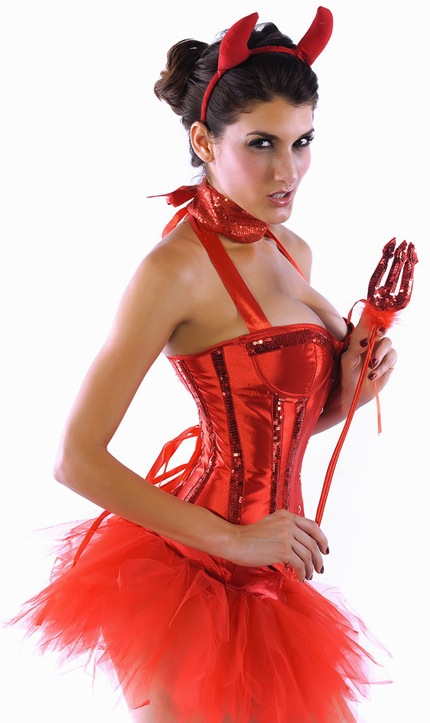 This is called the Red Shining Devil Cosplay Fancy Dress Costume. Which is a mouthful honestly… It comes with the corset, the skirt, the horns and the pitchfork. No tail or shoes are included.
It sells for $32 US on various sites on the web.
The thing about this costume, and it's really petty I know, is that the model looks… wrong. She seems to have the wrong look and the wrong hair style as well. That shouldn't reflect on the costume itself I know, but it's hard to see past a model that doesn't seem to be showing off things in the best light.
Setting that aside, the pitchfork is ugly, the horns look more like ears, which is wrong. The corset isn't that bad really, but the tutu slash skirt just does nothing for me.
Which brings up a question.
Why is it that most of the devil girl costumes of late all have tutus? Is this a new fetish that I haven't been made aware of or is it that there was a massive sale on them and the costume designers had no choice but to use them?
I don't like the straps on the corset and the choker around the models neck looks like an afterthought honestly.
I can't say I like it, can't say I absolutely hate it either, as much as that's quite easy to do really…
One half of one pitchfork out of five.
There are so much better to find…
Tera