I've said in the past that sequins alone do not a costume make. Nor does making the costume out of as little material as possible. That doesn't make it sexy or something for Succubi…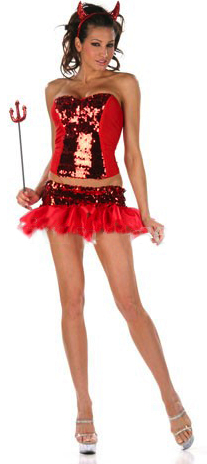 This is called the Sexy Sequin Little Red Devil Girl Costume and it comes with a pair of horns, the pitchfork, the corset and the skirt. It does not include the shoes of course, and there is no tail attached. It sells for $30 US but can be found for as little as $25 on the web.
There isn't all that much to like here I think. The corset really isn't one and the sequins that seem to be painted on the front look really bad honestly. The skirt is really nothing special either. The pitchfork is one of the ones that I really hate and the horns are sparkly ones and look wrong with the entire look.
Not to mention, no tail either.
I can't see a way to make this look better and honestly the only part of this that I might keep would be the horns… They aren't totally awful and they might have a place in a costume somewhere.
One half of a pitchfork out of five.
This is just an excuse to use up some leftover material and accessories to clear out stock I think.
I wouldn't buy this, if for no other reason than it looks trashy, silly, and not at all sexy…
Which really is enough reason not to like it honestly…
Tera