I wonder sometimes what costume designers think of when they hear the word sweet. I'm not sure that their definition of that word is the same as mine…
Actually, I'm very sure when I see things like this.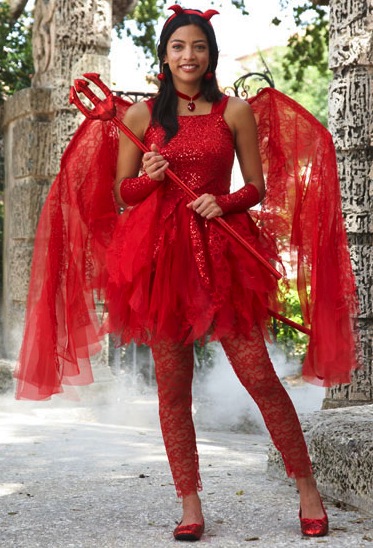 This is called the Sweet Devil Costume, why I have no idea, but it is…
The basic costume consists of a sequin-bodice dress with tulle, lace and organza "flame" skirt.
Everything, and I mean, everything, else in this image is extra on top of the minimal costume.
That means you would have to purchase separately the devil horns, the devil wings, the earrings, the choker, the glove lets, the leggings, the shoes and the pitchfork the model is holding.
The costume itself sells for $89 US, but adding the extras pushes the final cost to a whopping $240 US…
And I can't see for the life of me why anyone would think of paying that much money for this.
It doesn't even come with a tail for goodness sakes…
I really don't care for this at all. Setting aside the price of this, the look doesn't thrill me, there are much better looking costumes to be found as well.
I'll give this one pitchfork out of five.
I wouldn't buy it.
Tera