Occasionally, when I look at a costume quickly, I see something, but turns out that I didn't see it. When I first looked at this costume I honestly thought that there were holes in it… That might have actually helped the look of it considering…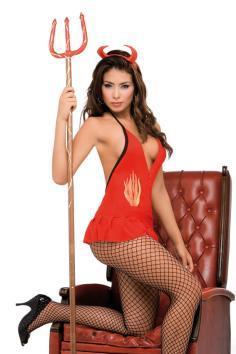 This is called the Lot Espiral Lingerie Costume Devil Outfit and it comes with only the horns and the costume. The pitchfork, shoes and stockings are not included.
It sells for $20 US on several sites I have found it on…
Honestly even with all of the accessories that are shown in this image, there really isn't much I like about this costume.
The horns are borderline, maybe in a pinch I would wear them, but otherwise? I'm not sure I would want to honestly.
The costume isn't anything special other than being red. The yellow flames on it, at a glance, look to me as if the costume had a hole in it, which I don't think was the idea behind them really.
No tail of course, not really a surprise for the cost of this costume as well.
So what is Devilish about it?
Just the horns really, otherwise it's simply a skimy piece of lingerie and I have lots of those…
A quarter pitchfork out of five.
Too generous probably, but it really isn't the worst thing ever… just close.
Tera