The word "classy" to me means that something has a particular look or style to it. Personally, "classy" is my look and I do try very hard to find costumes that can live up to that word.
I don't think this one does.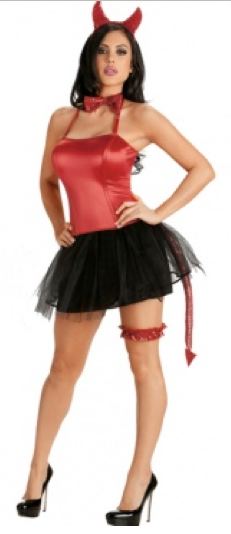 This costume is described as the Classy Devil Costume. It comes with the corset top and halter strap, sequin bow tie choker, headband devil horns, tutu skirt with removable sequin devil tail, and matching leg garter.
Shoes not included.
It sells for $58 US.
So many problems with this costume and it being "classy" that I honestly don't quite know where to begin really.
Lousy horns, awful tail, the bow tie is silly, the top isn't corset isn't anything special, the skirt is uninspiring and the garter seems like an afterthought they added to get rid of the ones they had in stock I think.
I can't see anything classy in this at all, more trashy I think and that brings up the question of why… Why call this classy?
Mind you, there are quite a number of similar costumes that are called trashy, or lousy, or yucky. Okay, I made up the last one, but it has to be somewhere out there considering all of the other names costumes have been given.
I'll give it one single pitchfork out of five.
I'm not sure exactly why I am being so generous…
There's just so many problems with this…
Tera