It strikes me that when costumes are promoted they should look good, appear in a photo that flatters them and makes them look better, and, most of all shouldn't look like they were dropped in muddy water and then handed to the model to wear.
At least I think so.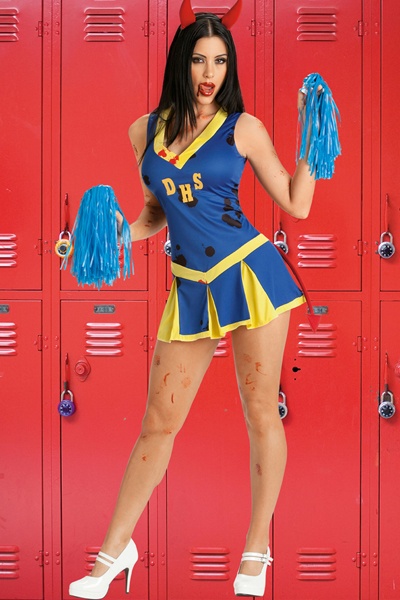 This is called the Demon High Cheerleader Costume, and it comes with a bloody print pleated dress with an attached devil tail, a pair of headband horns and the blue pom-poms.
It sells for $45 US.
Lots and lots of problems with this costume. First of all, why would they use so much blue? It's not a "devil" or "demon" colour really so that makes no sense to me at all.
The next thing that gets to me is why… Why oh why have blood marks on the costume? What's the point of that?
It really makes the entire costume look like it was dropped in something and then the model just put it on. I wouldn't wear this because of the dirty filthy look in the first place, but in the second it just looks so wrong.
I would also like to know who decided that a pair of white heels would work best with this costume. Seriously, make up your mind with the colour scheme please?
The tail is lousy and the horns do nothing for me as well.
I'll give this a zero and I would rate it a minus 10 if I could honestly…
Avoid. Just don't do this…
Tera