Occasionally, just occasionally, there appears a costume that looks, sounds, and seems like it might actually be good enough for a Succubi… It might even become one of my choices for this year's Halloween costume too…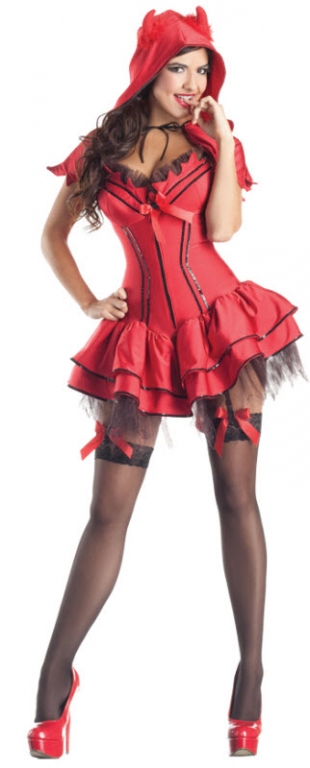 This is called the Devil Body Shaper Costume, and it comes with the red dress with what the manufacturer of the costume calls a "built in Body Shaper". The dress has sparkly glitter mesh, flame details, and removable garters and an attached tail which you can't see in this picture, but it is there. It also comes with the matching shrug with built in feather adorned horns.
The shoes and stockings are not included.
And it sells for $108 US on various sites on the web…
I really like this costume a bunch, though I will admit that the shrug does nothing for me and I would get rid of it almost instantly, replacing it with one of my own sets of horns…
But, just looking at the dress, which has a decent tail believe it or not, and the stockings and shoes, I think this makes a deliciously sexy and seductive Succubi.
I've checked and the stockings and shoes would cost together $45, so that's not really all that much and seems to make some sense to me at least.
If I had to wear this as is, I would give it two out of five pitchforks because that shrug really, really is a bad idea honestly.
However, losing that, and going with what I have in mind, I'll give it four out of five pitchforks…
It really does have possibilities and that really is what makes a difference…
Tera